2024 Prep Information Session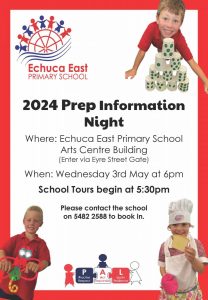 New statewide timeline for Foundation (Prep) enrolments
The first year of primary school is called Foundation or Prep.
A new statewide timeline for enrolling in Foundation (Prep) for the 2024 school year has been released.
The timeline advises families when and how to enrol their child into Foundation (Prep) at a Victorian government school. The timeline seeks to make the enrolment process simpler, clearer and fairer for families.
The timeline will apply for children starting Foundation (Prep) in 2024. All government primary schools, including P-9 and P-12 schools, will follow the new timeline.
Prep Enrolment Parent Information Pack
Little Easties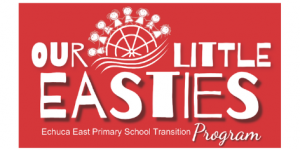 Our Little Easties weekly transition sessions for 4 year old kinder kids will return in Term 2, 2023.  Children will experience life as Prep students.  They will explore the Prep classroom, enjoy what our SPICE program has to offer, have loads of fun in PE, be creative in the Art Room and lots more!
WHERE – Echuca East Primary School, Eyre Street entrance
WHEN – Tuesdays from 9.15 – 10.15 (commencing 9th May)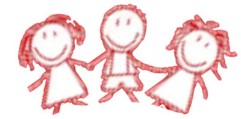 2024 Prep Enrolments
Please complete this form to enquire about enrolling at Echuca East or phone or email to request a tour.
Some little snapshots of us 🙂